After using The Twilight Zone motif in a blog post a few years back, I got to thinking about Rod Serling and others who have affected my life—many of whom appear above. I've been particularly fortunate in personally knowing some of these extraordinary folks, and all, in some way, have contributed to my life and education.

From time to time when old synapses cooperate, I will enter my memories of these thought provocateurs — an homage really.

FIRST ROW:

Rod Serling

I met Rod on a few occasions when I lived in Ithaca from 1966 to 1975 (he passed away in June of '75 during heart bypass surgery). I had always been a fan and had once written a parody of his show which I performed with some friends at a school assembly years earlier. The first time we met was in the Fall of '66. The discussion then was about writing and "the industry," but later discussions covered other topics from Unitarianism to the Civil Rights movement and social action (he was for it), to war and the Vietnam War in particular (he was against it), to Yellow Springs, Ohio and Antioch College which he attended in the late forties and which I had visited during my sister's attendance there (class of '64).

He was a small, slight guy, usually very tan, super smart, open and very hip. He loved to use the phrase "in point of fact" and certainly knew a lot of them. Aside from many episodes of The Twilight Zone and Night Gallery, he also wrote the screenplays for Requiem for a Heavyweight, Seven Days in May, and Planet of the Apes among others.

The last time I saw him he was working with the actor Robert Lansing--they were working on a project together. Bob had starred in the TV series Twelve O'Clock High and had appeared in a Twilight Zone episode Rod wrote entitled "The Long Morrow." It had a Gift of the Magi twist to it and told the tale of an astronaut who's sent to explore a distant planetary system. The trip takes 40 years so he's supposed to place himself into suspended animation. A few months into the journey he decides not to use the SA equipment and endures 40 years of loneliness so he can return to earth the same age as the woman he loves. Ironically, she too wishes to eventually have a life with him and has herself placed in suspended animation back on Earth shortly after he leaves. He returns to Earth an old man, the purpose of his mission having since been completed by technological advances made in his absence, and to a girlfriend now too young to spend her life with him..."Commander Douglas Stansfield, one of the forgotten pioneers of the Space Age. He's been pushed aside by the flow of progress and the passage of years - and the ferocious travesty of fate. Tonight's tale of the ionosphere and irony, delivered from - the Twilight Zone". Bob himself often came into Ithaca (Rod lived just up the lake in Interlaken) and held court in a local bar. He had an actor's ego, had let his hair grow long and was accepted by us local nonconformists. Around that time a teleplay Rod wrote had been adapted for the theatre. It was called Storm in Summer and opened in L.A. under the direction of a new, up and coming talent who had been working for Mary Tyler Moore and Bob Newhart. His name was James Burrows, the son of another friend, Abe Burrows:

Abe Burrows

Abe was a major talent in radio and on Broadway and was frequently seen on TV. He was multitalented and well known as a songwriter, composer, writer, panelist, director, singer and pianist. He wrote Guys and Dolls, Can-Can, Silk Stockings, How to Succeed in Business Without Really Trying and Cactus Flower among others, He directed a number of other big hits and won Tonys for both writing and directing, and a Pulitzer for Drama. He also wrote the screenplay for The Solid Gold Cadillac.

For me as a kid and then a young adult Abe was one of my favorite "adult friends" (others included the French writer Andre Bay who made me a character in one of his novels (his photo is next to Abe's above); and the absolute best and closest were Ruth and Ira Kornblum of White Plains, NY--the parents of my childhood friend John--I hope to write more about them later.

I would see Abe and his wife Carin occasionally at our home or in NYC, but most of the times were in Provincetown, MA during the summer. (I spent nearly every summer in Provincetown during my childhood. In 1978 my wife Bryn and I honeymooned there, and later we bought a place in the East End across the street from Norman Mailer who owned a huge red brick house on the water. Our place faced a private beach with great views of the bay. We eventually sold it to Mailer's sister, Barbara and her husband Al Wasserman in the 90's after we bought another place in Pawling, NY).

Provincetown was a unique and interesting place in the 50's and 60's--still is, but it's not quite the same as it was back then. Each summer the town would fill up with artists, writers, New York psychoanalysts, and some show people (my mother once noted if you were a gay psychotherapist who liked to write and paint, you had just entered Heaven).

Abe and Carin had an adorable house on the water with a special piano Abe had custom built to fit against a short wall in the living room. It was fun to go over and sit there while he and my Dad, also a skillful singer, would tell jokes and sing songs together--pretty idyllic stuff. Even though I was a youngster Abe was very supportive and interested in listening to what I had to say (it all started when, without any solicitation, he offered to get one of my jokes printed in The New Yorker when I was only 11).

I remember one excursion we took along with Provincetown artist Philip Malicoat and his wife Barbara. Phil had a shack in the dunes on the remote ocean side of the Cape. It was only accessible by jeeps and we all hopped in for a day long stay there. We brought a bunch of food and Abe had a couple of six-packs of Moxie. I thought this stuff had gone out with the Forties, but Abe had some special connection and there it was. He held the glass bottles tightly as our jeep rolled through the dunes. The "shack" wasn't a shack at all, and it comfortably accommodated the nine of us. There was my Dad, Abe, Carin, Phil, Barbara, me and Woody English, a colleague of my Dad's and his two kids Andy and Ellen. The kids flew kites and played on the beach while the adults (I was one of them, now) sat around eating, drinking, and talking all day.

I remember a lengthy discussion about Mike Nichols' film The Graduate which had come out that winter. I had just finished my sophomore year at Cornell and the film was personally significant, socially relevant and an accurate display of the emotions felt by my generation. At one point the question arose as to the meaning of the final scene, and what was to follow. We all took a stab at it but Abe felt my interpretation was the right one (I even beat out my Dad which is quite the accomplishment given he does these analyses for a living. I will note, however, my father's interpretations of the earlier movies Who's Afraid of Virginia Wolf (Mike Nichols, again) and David and Lisa were ultra-perceptive mindblowers). I can't attest to whether Abe's compliments to me were well deserved or not, but they were encouraging and gratifying to a young guy starting out. It was a great day and he and his wife were great people.

A few years later, Abe served as my sponsor and primary reference when I applied to the musicians union for my booking license to handle rock bands and other entertainers. Today, his son James Burrows is a leading television director who's been nominated for at least one Emmy every year since 1980 save one, and is a member of the Academy of Television Arts & Sciences Hall of Fame. Abe's daughter Laurie Burrows Grad is the author of four cookbooks and host of her own cooking show. I don't recall meeting them but it's no surprise to me they're so talented and have had such great success given their father's character and kind nature. Abe died of Alzheimer's in 1985 and his daughter along with her husband Peter Grad founded "A Night at Sardi's" in his honor. This event is held annually and has raised over $18 million in the fight against Alzheimer's. At his memorial Arthur Schlesinger put it perfectly when he spoke of Abe's ''spontaneity, generosity, quick mind, compassion and sweetness to friends" and concluded "Few men in our time have given more delight to more people than Abe Burrows.'' Carin Burrows passed away a few years later in the early 1990's.

André Bay

André is a French novelist, poet, artist, and publisher who's also translated the works of Lewis Carroll, Jonathan Swift and R.L. Stevenson among others. His own novels include La Fonte des Neiges, L'Ecole des vacances, La Carte du Tendre (in the latter, the character Ladislas was modeled after me as a child, and Ada and Minos, after my parents (sort of)). Other works include Trois Histoires très naturelles, Trésor des Comptines, Cabinet des Fées, Il fait beau and Amor, a critique on the art of French Impressionist Jules Pascin, and contemporary artist Maurice Sarthou. He and my mother met while attending the Sorbonne in the 1930's. He was the brother my mother never had and they maintained their relationship until my mother's death in 2002. He occasionally visited us in the United States and we saw him anytime we were in Paris. Like my father he's now in his nineties despite having lost a lung to TB in his youth. His longevity is no doubt due to his eclecticism, optimistic view of life and the excitement all things have to offer--he set a great example of how to approach life for me during times when things felt out of focus. He has to be the most romantic figure I've ever met--the epitome of cool--like Cary Grant with a French accent.
Update: André passed away in 2013.

Another ally in finding focus, not through attitude, but through understanding mental process was Rollo May.

Rollo May

I knew Dr. May as a colleague of my father and as my mother's therapist, and spoke with him on social occasions, but my deeper interactions were with his written work. Personal histories can often lead to anxiety and other dissociative elements. The 60's tendered it's own brand of punctuated equilibrium and with it, instabilities cum indignation cum confrontations cum revolutionizing fervor, and for many, an unforeseen derivative--some future anxieties.

When Cornell was in crisis in 1969, fast solutions were needed by different groups adhering to inflexible realities and anger (an acceptable form of self-approbation). Excitation fostered a detachment from the less acceptable feelings of the anxious self, making the situation doubly complex. The self that many of us developed through the rewards and punishments of our upbringing was being displaced by a new one drawn from self-generated and internally directed praise absent disapproval.

In The Meaning of Anxiety, May observed, "We now need to make explicit what is implied...that the limitations set by anxiety-creating experiences are not merely prohibitions of action, but are limitations of awareness as well. Whatever tendencies would arouse anxiety tend to be excluded from awareness, or in Sullivan's term, dissociated." He added that [Harry Stack] Sullivan summerized as follows, "The self comes to control awareness, to restrict one's consciousness of what is going on in one's situation very largely by the instrumentality of anxiety with, as a result, a dissociation from personal awareness of those tendencies of the personality which are not included or incorporated in the approval structure of the self".

The revolutionary and counter-revolutionary mind of the late sixties and early seventies was uninhibited and the borders of awareness blurred leaving many participants unprotected, and their personal psyches out on a limb. The eventual return to normalcy (dormancy) proved traumatic for many and included greater anxieties, calling for greater clarification.

May continued. "In Sullivan's contribution there are also stimulating formulations of the relation between emotional health and anxiety. These might be phrased as follows: Anxiety restricts growth and awareness, shrinking the area of effective living. Emotional health is equal to the degree of personal awareness. Hence clarification of anxiety makes possible expanded awareness and an expansion of the self. This last means the achieving of emotional health".

For me, Rollo May offered further explanations on this subject and others. They proved insightful when trying to deciphered one's personal psychic map, and offered a first step. A potent second step involved Eye Movement Desensitization Reprocessing, or EMDR for short. This technique calls for the subject to revisit difficult past moments and recall the feelings that surrounded them including any negative thoughts and sensations. As this is taking place the practitioner moves his or her finger from left to right, left to right, etc. about 18 inches away from the subject's face. The subject tracks this movement while concentrating further on the memory being recalled. The effect can be extraordinary, carrying you deeper into the memory past previous barriers and ultimately into a calmer state of resolution that didn't exist before. I was intrigued by this procedure as a treatment and would encourage others to investigate further if they feel it appropriate to issues they may have.

The next step is ongoing.

One interesting last note, it occurred to me that the effects produce through EMDR might partially explain the centuries' old tradition of marching in the military. Already used for teaching discipline, organizing the movement of large numbers, and maintaining momentum during confrontation, I realized an unnoticed explanation for its practice might be the calming effect produced within the brain by the constant left-right, left-right, etc. EMDR methods initially involved eye movement from side to side, but now include alternate knee tapping or auditory stimulation alternating from ear to ear, but what the soldier experiences as sensorily transmitted from the soles of his or her feet is similar and should have a comparable effect.

John R. Everett

In 1976 shortly after returning to New York from 10 years in Ithaca, I met my future wife Bryn McCornack. Soon, I also met her uncle John Everett and his wife Elsie. At that time Jack was President of The New School for Social Research (later renamed New School University and now The New School), and had been since 1964. He was quite remarkable and a true renaissance man.

As a teenager he nearly died after falling from a third-story window, breaking 36 bones. His recovery included a lot of reading and his physical rehabilitation lead to success as a competitive swimmer. Graduating from Park College in 1942 with a BA, he went on to get a Bachelor of Divinity degree from Union Theological Seminary a year later, and then a Master's and Doctorate degree from Columbia University a year after that. (As an ordained minister he presided over our marriage in the "Sculpture Garden" between the 11th Street and 12th Street entrances of The New School's main building). During his time at Columbia he also worked on the top secret Manhattan Project through the math department. Jack taught philosophy at Wesleyan from 1945 to 1948, was then made head of the Philosophy Department at Columbia's School of General Studies for two years, and in 1950, became the youngest man ever made president of an American college, taking that position at Hollins College in Roanoke, VA.

In 1960 he became the first Chancellor of the City Universities of New York which included City, Hunter, Brooklyn and Queens Colleges. Resigning in 1962 he was appointed president of Encyclopedia Britannica Press for two years, and then returned to NYC to become President of The New School in 1964.

During his 18 year tenure as President he was responsible for The New School's outstanding growth into a full-scale urban university with campuses on both coasts, and an enrollment that increased from 8,000 to over 30,000 students.

His knowledge on nearly every subject was phenomenal, his personal involvement with some of the great minds of the twentieth century was extensive, and we had a blast over the course of hundreds of conversations. Hearing about the inner workings of government and academia, or what had been discussed with historical figures like Cordell Hull, Paul Tillich, Harry Truman, JFK and others was fascinating.

During the late seventies and early eighties I often advised Jack on matters real estate but the great discussions (and arguments) occurred during off hours at his apartment in The Butterfield, or at his and Elsie's weekend house upstate. Jack was encouraged to buy a place in Pawling, NY by his friend Edward R. Murrow who already had a house there and often had Jack up to visit prior to Mr. Murrow's death in 1965 (Jack appeared on Murrow's radio program This I Believe and a transcript of his monologue can be read here). Eventually, my wife and I also bought a Victorian farmhouse nearby and spent many weekends together with Jack and Elsie.

It is impossible to overstate the intelligence of this man or the contributions he made to my own development during the 15 years I knew him. There was, however, one area in which we often disagreed: how to define the purpose, suppositions and motivations behind the student unrest of the mid to late 60's, and what causes belonged to which results. The experience had been intense for both of us, and we would each cling to our own dogma. The verbal waters were often choppy, but we never had a problem reconciling post-discussion. It was best to recall the words of Justice Learned Hand (I suspect another of Jack's friends), "The mark of a free man is that ever-gnawing inner uncertainty as to whether or not he's right."

One of my favorite Jack stories is the following:

During the 1948 presidential election, Harry Truman was trailing his opponent, Thomas Dewey, in every poll. At the time, Jack was working for the Connecticut Democratic Committee and for Chester Bowles who was running for Governor. Before the election, Truman was scheduled to deliver a speech in Hartford, the state's capital, but all the Democrats running for office wanted no part of him feeling he would drag them down. Jack, as the junior member was ordered to act as the party "delegation" sent to meet Truman and escort him to Hartford. Boarding the train at the New York/Connecticut border he was warmly greeted by the President who welcomed him into his private railcar with no inquiries as to where his fellow Democratic candidates might be. As they sat and talked and the train moved closer to Hartford, Jack started to notice people standing beside the tracks with placards and waving as they passed. The number of onlookers seemed to increased exponentially with each mile and when they finally arrived in Hartford a huge, cheering crowd had gathered. Surprised, Jack turned to Truman and asked if he was always greeted by crowds this large and Truman answered, "Oh no, usually there are much more." Jack was convinced the polls were wrong and Truman could very well win the election. But what he remembered most clearly while standing near the podium as Truman spoke, was seeing out in the far distance his fellow Committee members desperately trying to break through the throng in order to join Truman on the stage.

Jack passed away in 1992.

Baron Friedrich Sigismund von Cramm

The photo just right of Jack doesn't so much represent a man as it does a state of minds. Baron von Cramm was a lieutenant in the 16th Panzer Division during the German invasion of Russia. On October 6, 1941 he was killed by shrapnel when a Soviet grenade struck his tank's antenna just outside Mariupol on the Sea of Azov. So that was that, he had left the earth while half of me, in meiotic form, was soon to ship out to treat shell shocked soldiers in the South Pacific, and the other half about to run a day care center in Washington Heights near the George Washington Bridge.

But the Baron had an American friend named Thomas B. Gilchrist, Cornell Class of '06.

In 1956, Mr. Gilchrist funded the construction of Von Cramm Hall to house Cornell students, and serve as a memorial to his late, dear friend. Mr. Gilchrist was an ardent anti-communist. A few years later, 235 miles southeast of Cornell, The Ford Foundation also concerned about the Eastern Bloc achieving scientific and intellectual dominance over America, hatched a plan. To produce more Ph.D.s, and at a faster rate, they would seek out the brightest High School students in the nation and bring them to Cornell. An intense program designed to develop these students' extraordinary talents would be established. Each would receive a Bachelor's, a Master's and a Ph.D in just 6 years. 1966 was to be the inaugural year, and a special dorm was set up to house them. What happened next was truly one of the most horrific and tragic events to ever occur at Cornell.

One night, during Spring semester a fire started in the "Phuds" dormitory killing 9 of Americas best and leaving the others grieving and without a home. Some found apartments in collegetown and elsewhere but Von Cramm Hall had room enough to bring a few into "the Cramm," and with them an erudite and creative praxis. Two years later a decision was made to make the Hall co-ed--the phuds dorm had been the first co-ed housing on campus--and now Von Cramm along with Watermargin and soon Telluride House would be, too. The all female rush class of Spring 1969 moved in that Fall, and I, an afterthought with a Y chromosome, joined them.

Living with a bunch of brainiacs with perfect SAT scores and already taking graduate courses 2 to 3 years into the process was mentally stimulating, and unbelievably fun. Listening to everyone multitask in conversation, intermingling an examination of water imagery in Eliot's The Wasteland with ideas pulled from Wittgenstein's Blue and Brown Books, with an analysis of John Ashbery's linguistic play, with carrot cloning techniques, etc. and often pulling them together was like listening to a Coltrane riff where the notes were seemingly unrelated academic disciplines that suddenly combined in a new coherency.

I remember taking a graduate course in Existentialism and Phenomenology. I sat with another Crammie and noticed him listening and nodding on occasion, not because he understood, but because he had anticipating everything being said--I was still in the "huh?" stage. Another housemate who was remiss in studying for a class on special relativity went in with his current knowledge of Newtonian Physics and a copy of the Lorentz transformation and simply took it from there. The Ph.D. program continued for 4 years and each year a few of the incoming class came to live at Von Cramm along with other exceptionally talented academicians; and many others came to visit.

Two who stopped by were Loren Cobb and Joe Savago, they had been in the fire and moved to collegetown after the tragedy. They were like Mutt and Jeff on academic steroids. I remember joining them once at an organized protest for Gay rights a couple of years after Stonewall. Morrie's, a bar in collegetown (the same one Bob Lansing frequented--see Rod Serling above) catered to a different demographic every couple of nights. One or two night's was for the Fraternity crowd, then the Locals and GDI's (God Damned Independents) would have a couple of evenings, but Tuesdays and Thursdays were Gay night and at one point the owner was being pressured by some in the community to exclude this group. So, a bunch of concerned Cornellians and townies assembled to give support to Morrie, and prevent the exclusion from taking place (there was a lot of "assembling" in those days, against the war, for civil rights, against apartheid, against University investments in Dupont (the makers of napalm), etc.).

One other thing about Joe: the summer before my sophomore year and Joe's, I guess we'd call it his Ph.D minus five year, he was killed in Europe in a motorcycle accident--yet another tragedy to strike one of the phuds. His body was flown home, a funeral conducted, and he was buried in a local cemetery. A few weeks later his family received his "last letter"--an excruciating bit of a snail mail--until they noticed it was posted two weeks after his death. He flew into New York to a very grateful and adoring family--a benefit that I suspect wasn't lost when he came out. The official story was his passport had been stolen, but he confided in us that he had given it to an AWOL American soldier who bore a strong resemblance to him and needed help. Joe eventually became Executive Editor of The Book of The Month Club, but died during the AIDS crisis in 1987. Loren and his wife live in Colorado where he has his own consulting firm and is Visiting Professor at the University of Colorado. He has degrees in Mathematics, Sociology and did Post Doctoral work in Psychiatry.

Even living amongst this group, from time to time I thought I had something relevant to say, but I suspect I was really there "as the entertainment" which I enjoyed doing. I often felt like Charlie Brown in the Peanuts cartoon where he's lying on a hill with Lucy and Linus looking at the sky. In the first panel Lucy says, "If you use your imagination you can see lots of things in the cloud formations...what do you think you see, Linus?" In the next 3 panels Linus points to various sections and says, "Well, those clouds up there look to me like the map of British Honduras on the Caribbean." "That cloud up there looks a little like the profile of Thomas Eakins, the famous painter and sculptor..." "And that group of clouds over there gives me the impression of the stoning of Stephen...I can see the Apostle Paul standing there to one side..." Lucy responds, "Uh huh...that's very good...What do you see in the clouds, Charlie Brown?" Final panel: "Well, I was going to say I saw a ducky and a horsie but I changed my mind!"

One time, however, I did pull it off out of sheer luck. Sitting at dinner in the Cramm dining room (there were 30 of us) I had recently heard about the "birthday paradox". Contrary to what some might imagine, in a room with 30 people the probability of 2 having the same birthday is near 70%. Wishing to take advantage of this I offered to bet anyone $10 that someone else in the room had the same birthday as me -- an entirely different problem and one which had about 8% chance of being true. J. Michael Steele (now the C. F. Koo Professor of Statistics and Operations and Information Management at The Wharton School of the University of Pennsylvania) immediately said he'd take that bet. I warned him he would lose, but he was "willing to take the chance" so we shook hands. As we did I saw his smirk was bigger than mine and suddenly realized my mistake. "Oh, no that's not what I meant to say, let me restate it". As he still clasped my hand and wouldn't let go he said, "You shook hands, Leigh, when is your birthday?". "No, I made a mistake, it's really that two people in this room have the same birthday". "When is your birthday?". I was toast and confessed it was February 4th at which point Merrill Vargo (now Executive Director at Pivot Learning Partners in San Francisco) who was sitting behind me said "Really?!" It was immediately clear what had happened, Michael was disconcerted, and out $10. I turned 62 on February 4th of this year, and a big "happy birthday" goes out to Merrill, too.

Von Cramm Hall was a beautiful thing and probably not what Thomas Gilchrist originally envisioned. I remember when my mother asked me what exactly was this place where I was living, I explained how great it was, and how there were no class divisions, that we all got together, worked together, held property in common, and where ownership was ascribed to the community as a whole and..., at which point she interrupted, "But, Leigh, that's Communism!"

While there, some of my "Comrades" were:

James Biber, Architect, Partner, Pentagram Design
Gordon Chang, Attorney and author of The Coming Collapse of China
Betty Cooney, Correspondent for The Boston Globe
Jeffrey Coplon, Journalist and author
Gordon Crandall, Professor, Department of Mathematics, LaGuardia Community College CUNY
Jain Elliott, English Teacher, Eugene, OR
Allen Foresta, Senior Librarian, Research and Information Services, Columbia University
Merry Foresta, Director, Smithsonian Photography Initiative
Ed George, Professor of Statistics, The Wharton School of the University of Pennsylvania
Mary Gilliland, Poet, Teacher
Frank Golay, Of Counsel, Sullivan & Cromwell LLP
Michael Goldberg, Professor of Law, Widener Law
David Gruenberg, Attorney and former Senior Counsel to the NYS Senate Judiciary Committee
Nancy Horgan, Attorney and Investigator, City of Glendale, CA
Timothy Hunt, Professor of English, Illinois State University
Sam Kazman, General Counsel, Competitive Enterprise Institute
Doniel Kitt, Attorney, State of Connecticut, Department of Banking
John Kroeker, Founder and Chief Technology Officer, Eliza Corporation
Charlotte Lin, Director of Airborne Intelligence, Surveillance, and Reconnaissance Systems Special Programs, Boeing Corporation
Scott McKee, Attorney RET, formerly with City of Bellevue, WA
Todd McVay, Chief Executive Officer, Minnwest Corporation
Paul Mermin, Clinical Associate Professor, Psychology, University of North Carolina, now in private practice
Giovanna Morselli, Vermont State Archeologist, Director of the Vermont Division for Historic Preservation
Mari Noda, Professor and Chair, Department of East Asian Languages and Literatures, Ohio State University
Mark Scowcroft, Associate Professor of English, Catholic University
Christine Sheppard, Curator, Ornithology, Wildlife Conservation Society, Bronx Zoo
Lawrence Simon, EMA/Physician, Potomac, MD
Barbara Stark, Professor of Law, Hofstra University
Roy Stephenson, Attorney, Santa Fe, NM
Catherine Sticka, Physician, Obstetrics & Gynecology
Fran Weller, Professor of English, University of Nebraska-Lincoln
William Wright, Attorney RET
Wendy Zomparelli, Visiting Professor, Dept. Of Journalism, Washington & Lee University, Retired President and Publisher, The Roanoke Times

William Drew Asnis, RIP
Robert Minkoff, RIP

and many others.
It was a time.

Miltiades L. Zaphiropoulos

As with the others above, I'll present a brief vitae:

Miltiades L. Zaphiropoulos, M.D.: Graduate, the Sorbonne including a Master's In Literature with Certificates in Ancient Greek, Byzantine and Neo-Hellenic Studies, Comparative Literature, and English. Doctor of Medicine from the University of Paris; Psychiatric Residency, NY State Psychiatric Institute and Rockland State Hospitals; Major, U. S. Army Medical Corps World War II; Post Graduate Training, The William Alanson White Institute; Faculty and Training Analyst, Director of Clinical Services, Director of Interprofessional Affairs, Director of Training, Co-director Union Therapy Project, Chairman--Council of Fellows, all at The William Alanson White Institute; Consulting Staff in Psychiatry for Westchester County Medical Center, United Hospital, and St. Lukes-Roosevelt Hospital; Professor of Psychiatry, New York School of Psychiatry; Visiting Lecturer, NJ Psychiatric Residency Training Program and for Columbia University, Teachers College; Faculty and Associate Professor of Clinical Psychiatry, Westchester Center for the Study of Psychoanalysis & Psychotherapy; Special Lecturer in Psychiatry, College of Physicians and Surgeons, Columbia University; President, Psychiatric Society of Westchester County; President of the American Academy of Psychoanalysis; President, William Alanson White Psychoanalytic Society; Speaker of the Assembly, Board of Trustees, Chairman--Rules Committee, Committee on Ethics, Commission on Peer Review, all with the American Psychiatric Association; Chairman--Committee on Medical Economics, New York County Medical Society; Member NYS Governor's Medical Advisory Committee; Author, numerous articles and papers; Recipient of Letter of Commendation, Commanding General, South Pacific Base Command; other awards: Citation, Westchester County Executive; Wm. V. Silverberg Award--American Academy of Psychoanalysis; Edith S. Alt Distinguished Service Award--William Alanson White Psychanalytic Institute; Myer D. Mendelson, M.D. Award--WIlliam Alanson White Psychoanalytic Society; and Father--dedicated, fun and informative type.

Actually, not such a brief vitae--my Dad is an extraordinary man who's offered guidance, education and leadership in the field of Psychiatry and Psychoanalysis. He has drawn great pleasure from success in, and advancing, the therapeutic process. I understand from others--and would predict based on my own knowledge of him--that he's an outstanding analyst. His own mentors and supervisors included Henri Baruk (early on, in general medicine and Psychiatry), and later: Janet Rioch, Ralph Crowley, Clara Thompson, Edward Tauber, Erich Fromm and Frieda Fromm-Reichmann (in Psychiatry and Psychoanalysis). He himself has been a supervisor and/or analyst to many others in his field including Stephen A. Mitchell who developed and further defined Relational Theory which serves as the basis for New York University Postdoctoral Program in Psychotherapy and Psychoanalysis. In addition to being a Psychiatrist and Psychoanalyst he holds a Master's in Literature which often brings further insights to our discussions. He has been, and still is, extremely active, outgoing and direct even as he approaches 100 years of age. He strikes me as unrestricted by the anxieties discussed in my entry on Rollo May above.

The returning reader has heard me occasionally reference my father in "The Manhattan Homologue" but I wouldn't know where to start when describing the many ways he has helped and influenced my life. There's just too much territory to cover along with its share of complex terrain. I can simply say as a father and friend he's been terrific, and a pleasure to be around.

None the less, I'd like to relate some less serious anecdotes I've always enjoyed revisiting.

Dad's a hoot and frequently in less common ways. This has been noticed not only by me but by my friends as well. He always seems to bring something different to the table. For example, in high school when most fathers and sons focused on athletics and team competition (we did that, too), a "new sport" was discovered by my cohorts. Being fluent in English, French and Greek and also knowing ancient Greek, Latin, some Russian, Arabic and even a little Vietnamese, Dad basically knew or could quickly deduce the meaning of any word. When some kids realized this, a game developed to see who could stump Milt. My friend Harry who's now a writer, journalist and columnist in Florida really got into this one and would search the dictionary to be prepared the next time he saw Dad--convinced he had a winner. Harry never did find a word Milt didn't know, and I would learn new ones with each attempt. When I'll ever use "epexegetical" again in a sentence--except to possible "demonstrate" it by doing so--I don't know, (even my word processor is giving me a dotted red underline to alert me to its obscurity).

Another time I remember receiving a Time-Life offer to buy a book on Archeology which had an ancient Greek artifact pictured on the envelope. I watched my Dad crack up as he explained to me the meaning of what was written on the artifact, how it meant one thing in Ancient Greek but in modern Greek meant something else, and not repeatable in polite society. Once on the road between Turino and Milano we had to stop for gas. We were "in the sticks" where no one spoke English. Me and my cousins were perplexed to see my father carry on an animated conversation with the attendant. I concluded the attendant must know Greek or French or one of Dad's other languages. When he got back in the car I asked which it was, and what they talked about. He told me but then added the attendant only spoke Italian. I reminded him he didn't speak Italian and he said yes, that's true, but he was able to understand the attendant, and when he spoke himself he used Latin and the attendant got the gist. Another time, going to the Museum of Natural History, Dad was able to read and translate what was written on some old scimitars and other arabic texts that weren't chronicled in the museum's descriptions. When I discovered the music of Stephane Grappelli, Dad could tell me about seeing him and Django Reinhardt at the Hot Club in 1930's Paris, and about meeting Grappelli years later to talk over old times. When dining at the "tribute" restaurant Chez Josephine owned by her son Jean Claude Baker, he could recount to Jean Claude his Mom's performance from personal experience. How often do you find a Dad who's actually served as a second in a duel, or has had a limerick written about him by Isaac Asimov, or has had the FBI visit his house seeking helpful information because he went to University with a well known North Vietnamese Communist?

I mentioned my father is very outgoing, but he's also a pretty mellow guy and not prone to expressing alarm even in situations where others are near panic. Once after I got stuck in an elevator (during the evacuation of a building under a bomb threat, and finding the experience especially disturbing), I asked him if this had ever happened to him. It had (except for the bomb part), but he explained he never felt anxious because he was too busy watching how his fellow "captives" were reacting and then helping to defuse their fears. If and when he reacts strongly to a situation you know your dealing with something very important. Once, when living in Ithaca, I became very sick with a high intermittent fever that went on for days. I called him to list my symptoms expecting some reassurances to not worry and ride it out. Instead, he showed deep concern which totally flipped me out. If he was worried, I figured I must be near death's door. Help! He said he'd call me back in a few minutes, and tell me what to do.

When the call came he had investigated Ithaca's physicians in his medical directory and told me there were three good doctors in town who could help me, and he gave me their names and numbers. I called the first and got the receptionist who said she was so sorry but the doctor was on vacation in Europe. I freaked again and called my Dad to tell him what happened. He said, "you've got two other names, call the next doctor on the list". I called and got a service. They told me the doctor was attending a medical conference in Boston and wouldn't be back for another week. My fever was spiking and now, near panic, I called Dad. "You've got another name, call him right now." It was true, I still had a chance to be saved so I called. The phone rang, and rang, and rang and then a calm, deep paternal voice said "Yes?". "Oh Dr. Wallace (I remember his name to this day) I'm so glad I reached you, I have a terrible fever, it's been going on for days, my father says you can help me, can you see me right away?" There was a long silence on the other end of the line and then the deep voice said, "I'm sorry, but the doctor's no longer alive" and he hung up. My God, here I was dying and the only person left who could save my life was dead himself. I called Dad and told him what had happened, and prepared to put my affairs in order. "Listen, just go to the emergency room at the local hospital and see what they say." I had my old Von Cramm roommate's wife Nancy Horgan drive me there (I think that's what happened--I was pretty out of at the time) and was diagnosed with Mononucleosis. I came home exhausted and fell into bed. A few hours later I woke up, and sitting in the chair next to my bed (reading the dictionary) was my Dad--he had caught a plane and flew in to help me. Very cool.

He has always accepted me unconditionally, has given me sound advise without pushing personal agendas, and has made it possible for me to find happiness and follow my bliss.
Update: My Dad passed away in 2015 at the age of 101.


Bryn Alison McCornack

A Pantoum for Bryn


The man in blue waves;
His mind is made up.
The cats, worried, eye
His trembling hands.

His mind is made-up
With trembling blue arms;
His trembling hands
His hand to her heart.

With trembling blue arms
The blue woman holds
His hand to her heart--
The past is unseen.

The blue woman holds
The man in blue waves.
The past is unseen--
The cat's worried eye.



A. R. Ammons and Roberta Sklar

This may seem a strange nexus of personalities but the dynamics conveyed to me by Archie and Roberta were, on a certain level, one and the same. Each showed the positive role stricture can play in the science of learning, and how it can affect insight and creativity. Simply put, Archie revealed the value gained from not doing what you can do, and Roberta demonstrated the value gained by not adhering to a sense of not having done what you didn't do.

Both notions involve adopting self-imposed regulation or restrictions with a view toward learning. It's like putting your brain in the on-deck circle with a weighted bat so when it comes time to step up to the plate (minus constraints), you can "swing" with greater strength, ease and accuracy.

Though it still may be true to some extent today, during the late 60's strong mutual approachability was shared by students, faculty and other members of the Cornell community. Often, genuine friendships and interactions outside the classroom developed whether you were attending a course, or not. Students were able to have friendships with professors and others who were receptive and generous with their time. Archie, Neil Hertz, Judith Treistman, Dan Berrigan, Dan McCall, and Carl Sagan were a few prime examples.

Archie Ammons taught English and poetry. He arrived at Cornell two years before I did and remained there until retiring in 1998. He was the recipient of two National Book Awards, the Academy of American Poets' Wallace Stevens Award, a National Book Critics Circle Award, the Library of Congress' Rebekah Johnson Bobbitt National Prize for Poetry, a Bollinger Prize, the Poetry Society of America's Robert Frost Medal, the Ruth Lilly Prize, a Lannan Foundation Award, the Tanning Prize, a MacArthur Fellowship, and fellowships from the Guggenheim Foundation and the American Academy of Arts and Letters.

All of this could easily have lead to grandiloquence but Archie remained unspoiled, gregarious, and accessible. He was soft spoken but spoke often. I always sensed in him a sort of silent rebel yell that offered the same syncopation as our late 60's consciousness. This made him an ally and a teacher to be respected and enjoyed. As far as writing poetry goes--as were Allen Foresta, Scott McKee and William Asnis--he was one of my "go to" guys.

Archie's reviews of my work, and all he suggested or demonstrated, smoothly interlaced with what I was trying to do, but the big surprise for me--who thought free verse offered the greatest potential for communication--was his suggestion to create limits and work within those limits while trying to make the same statement. This type of abridgment could produce a higher level of concentration in the poet and within the poetry itself.

Working with pre-defined meter and rhyme patterns, or using forms such as the sonnet, sestina, terze rima, pantoum and others initiates sensitivities and a creative momentum that would not take place otherwise. And then, upon leaving this practice or shifting within it, the writer can experience a mental expansion also unrealized earlier.

If you read A Pantoum for Bryn that appears above under Bryn Alison McCornack, the message of each line is simple but when repeated their meanings become different as nouns become adjectives, adjectives become verbs, verbs become nouns, alternate definitions come into play, and punctuation is revised. Eight lines of thought become sixteen.

If poems become metaphor, learning to write in this manner offers a figurative reciprocal on how to select methodologies and reach decisions in other aspects of life.

I knew Roberta Sklar since I was a teen-ager, but in 1970 I had an opportunity to spend more time with her when the Open Theatre came to Ithaca to conduct acting workshops and also perform The Serpent: A Ceremony, and Terminal. Roberta shared directing duties with the theater's founder Joseph Chaikin with whom I also developed a friendship. (Later that year Joe and I got together in NYC to review current draft issues and to create a "guidebook" for conscientious objectors whose beliefs were not being respected by their local draft boards. He was an expert on how to work within this system and best minimize improper or illegal behavior on the part of some boards.)

Here's a little more background on Roberta: In addition to her artistic and directorial work with the Open Theatre, Roberta later co-founded The Women's Experimental Theatre with Sondra Segal and Clare Coss. She has been a social activist who's worked on a range of issues including sexual rights, reproductive health, and public education, As a media relations specialist she has helped direct campaigns for the United Nations Population Fund, Family Care International, The Saving Women's Lives Project and Freedom to Marry among others. She is the former communications director of the National Gay and Lesbian Task Force and continues to be a national voice for lesbian, gay, bisexual and transgender rights.

During their visit to Ithaca, the Open Theater's performances were phenomenal. The Serpent demanded full attention and required multiple viewings to grasp it's full context. I remember at one point during the performance, the actors assumed positions that changed in strobe-like fashion and once completed, reversed, then started again, reversed, then started again, etc. The movements were eerily familiar and upon the third or fourth repetition the audience realize the deja vu they were experiencing matched frames from the Zapruder film showing the Kennedy assassination--it simply crept up on us just as it had seven years earlier, and with near similar effect.

The next day I spend with Roberta and the women cast members. We hit a local diner then headed downtown to see the Albert Finney movie Charlie Bubbles. Sitting in the audience with these actors and listening to their hilarious nonstop critique of the film, and the performance of a very young Liza Minelli among others, was almost--in the positive sense--more than I could bear, and, for me, it was the only thing that made the movie itself, bearable.

While she was in Ithaca, Roberta also conducted a feminist workshop and invited me to attend. There was one other male there and the rough territory covered was a candid and accurate analysis of repressive models and histories. At one point the other guy took offense, though he understood the narrative and its present manifestations he refused to accept any personal responsibility, or the need to do so. What came from Roberta was a succinct explanation as to why he should feel otherwise. With her commentary came a clear realization of the insights and changes we can gain if we're willing to not limit ourselves to only taking responsibility for our own behavior, but to do so for others, too. To advance by, in a sense, restricting our own restrictions. Doing so maintains a mental presence that allows us to foretell danger and identify future excursions into the gray latitudes before things can become even darker.



As a final aside, I'll mention my recent formation of www.thegreenpoetrysociety.org. Hopefully, if funds become available, the mission of this organization will be to encourage--through poetry contests and awards--a conservation of words. Submissions will not call for poetry on "green issues" but rather for poems that demonstrate "recycling" like that exhibited in A Pantoum for Bryn. It will include poems created with the types of restrictions mentioned earlier, and will also include "centos"--the ultimate in recycling--where each line of a new poem must be taken from previous works by others. Reviving this last form was inspired by Allen Foresta who once showed me a poem he'd written (among many other great ones). It was ethereal in nature but was "brought back to earth" for me in the last two lines. When asked about this final stanza Allen told me the lines came from other poems--I remember the lines as:

My mind's not right,
but I laugh plenty............... Ananda

Below I have included an example of a cento I've just written where each line is the full title of a science fiction or horror movie (by now you must know I'm a movie lover (with the possible exception of Charlie Bubbles). I love the cinema and still have the original (and only) copy of a film I did as a kid with my friend, (now Dr.) David Novick. It is a Mel Brooksian take off on Ian Fleming's work entitled Dr. Yes, with David cast as the protagonist ("Bond, Savings Bond") and yours truly as the infamous and ill-fated Dr. Yes...it was very, very low budget and filmed "on location" in White Plains and at Idlewild Airport--Mom and Dad were the cameramen).

This cento is just a quick exercise and shouldn't be viewed as a serious piece, or one that was attentively produced. It is to be used for edutainment purposes only--go ahead count how many of these movies you've seen--sorry no prizes are being given. Also, it (almost) can be read across as well as down--but that would require extra work, and I'm a lazy bum.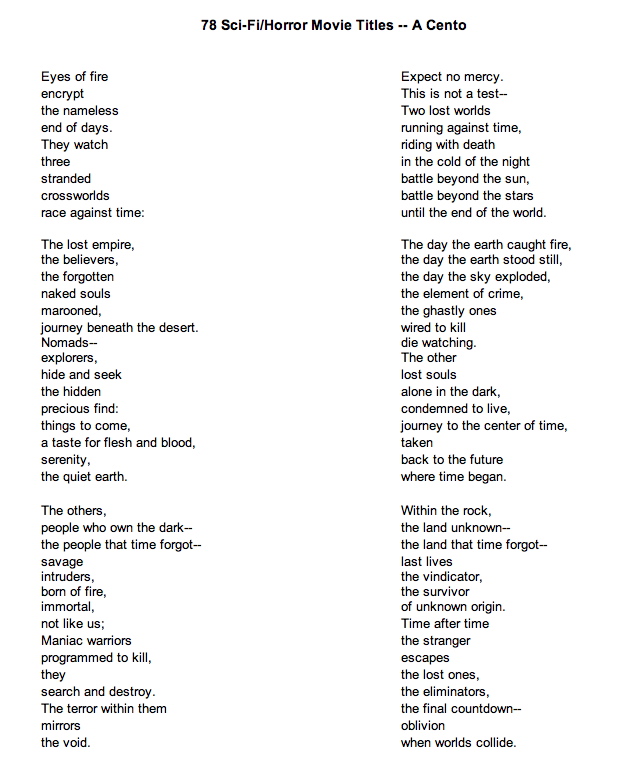 Ruth Kornblum

On March 10, 2010 Katherine (Ruth) Kupferberg Kornblum was awarded the Congressional Gold Medal. This decoration--along with the Congressional Medal of Honor and the Presidential Medal of Freedom--is considered the highest honor this country can bestow. Requiring an Act of Congress it has been awarded only 142 times since first presented to George Washington on March 25th 1776. Past honorees have included some U. S. Presidents, the Wright brothers, Thomas Edison, Walter Reed, George Marshall, Irving Berlin, Jonas Salk, Robert Frost, Winston Churchill, Marion Anderson, Robert Kennedy, Simon Wiesenthal, Joe Louis, the Dalai Lama, Martin Luther King, Jr. and Coretta Scott King, Nelson Mandela, Mother Teresa, and Aung San Suu Kyi among others.

"Between 1942 and 1944, at the height of World War II, more than a thousand women left homes and jobs for the opportunity of a lifetime--to become the first in history to fly for the U.S. military. They volunteered as civilian pilots in an experimental Army Air Corp program to see if women could serve as pilots and relieve men for overseas duty. These women became the Women Airforce Service Pilots of World War II, better known as the WASP..." (from the Texas Woman's University Libraries). 25,000 women applied; 1830 were accepted; and 1074 graduated from the training program. Ruth Kornblum was one of the few to complete the program and enter the service.

It is for outstanding deeds and acts of service to the security, prosperity, and the national interest that she and her fellow pilots were given this award. If this high honor represents a nation's thanks to a person exhibiting such selfless devotion over three years, imagine her value as she's continued with equal dedication in the 65 years since.

This is very special. Unlike Thoreau's "mass of men", Ruth--along with her late husband Ira--has led a life of quiet contribution. So many have been and had the better for it, and I am one of those lucky beneficiaries.

At a time of unstable circumstance for me, Ruth, Ira, their son John (my best childhood friend) and their daughter Katie, all helped to calm my inner turmoils while demonstrating the strength and value to be found in altruistic action. Ruth was a second mother when mine was unavailable, Ira a caring advisor, and John an incredible, creative guide and revealer of the fun things life could offer. Katie was a talented friend who would need to weather her own tumults in the years to come.

Just a quick word about Ira: he was a very interesting man of great activity. He had been a high school basketball star at James Madison High School in Brooklyn and received a full athletic scholarship to Rutgers University. Leaving college a short time into his first year, he turned to other pursuits from being the first Sports Editor of Cue (now New York) Magazine to helping introduce seedless grapes to the United States (how that came about I still don't know). He fought in World War II and eventually went into business with his brother Sidney. He was a well known figure in Westchester County and was appreciated by a community that got to enjoy his lighter side in local theater productions. His choice of other activities often revolved around giving comfort and support to others. Active until the end, he died in his 80's after playing a game of tennis.

Ruth and Ira were social activists who participated in the civil rights movement, opposed the war in Vietnam and worked to inspire and mobilize others to do so. During the early to mid 1960's their house was a social hub and gathering place for the local kids. Their own youthful receptivity and ability to relate to my generation stimulated our interests in important issues. In their home, consciousness raising was as common an occurrence as playing music, doing photography, fixing cars and motorcycles, or any of the more common teenage activities we were involved in. It was a good preparation for participating in and influencing the social transformations that would take place in the years to follow.

Now 92, Ruth is still at it, working as a volunteer at the Sarah Neuman Center for Healthcare and Rehabilitation in Mamaroneck, NY. John Kornblum is Director of Molecular Characterization Laboratory for the City of New York's Department of Health and Mental Hygiene. I haven't seen Ruth or John in many years and given how much they gave to me I often scold myself for not having reciprocated more; but I know what they did for me serves as the source of my own wishes to respect and help others, and to keep paying it forward.
Update: Ruth passed away in 2011.


Augusta Barnet-Zaphiropoulos, professor emerita, Sarah Lawrence College
To be written...

Lela Zaphiropoulos-van Assen, psychotherapist, author
To be written...


SECOND, THIRD and FOURTH ROWS:

Great influences all, but with the exception of the first nine people in row two, I haven't personally known the rest of these folks, just their work. If you can identify twenty or more, you should seriously consider going on Jeopardy.

--Leigh Zaphiropoulos aka Leigh Zaph